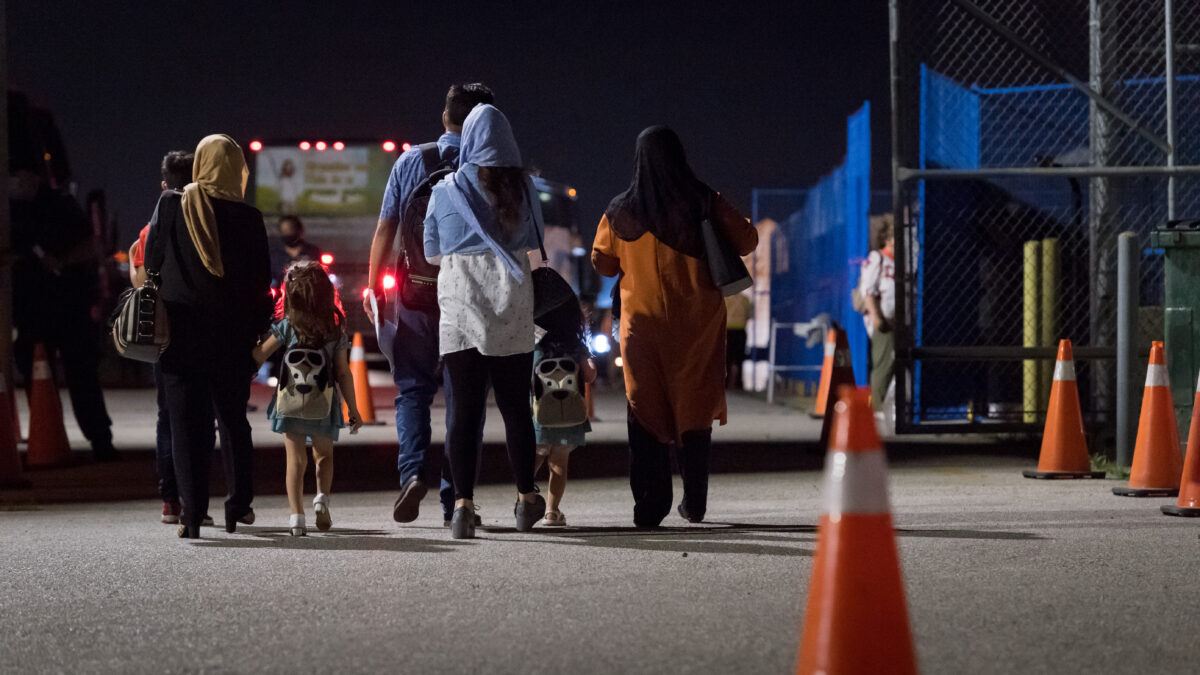 Lori Turnbull, Deputy Editor at Canadian Government Executive, recently spoke with Ali Shakil, partner at IBM Consulting Canada, Arjun Grewal, President of ONE9 Capability Labs, and Eleanor Taylor, Program Director of Aman Lara. The conversation revolved around a very important topic that is of interest to a lot of people, how a process software application has been able to assist NGOs in managing the Afghan refugee crisis.
About Ali Shakil:
Ali Shakil is a partner at IBM Consulting in Canada. He leads teams that cut across business strategy, creative design, and digital technologies, to solve business problems for clients, and to create innovation. His main focus is on the banking industry. He also helps to lead pro bono initiatives on behalf of IBM Consulting.
About Arjun Grewal:
Arjun Grewal is the President of ONE9 Capability Labs, a Canadian based innovation hub for all things national security, military and defense. He is also a 19-year Canadian Forces veteran who was deployed to Afghanistan numerous times and was humbled by the participation of allies in Afghanistan, helping to guide and assist Canadian Forces with their missions.
About Eleanor Taylor:
Eleanor Taylor is a veteran who served for 27 years in the Canadian Armed Forces and released over the last year. In June she got involved in the Afghan evacuation effort. First, she joined the advocacy effort and then a team called the Afghan Strategic Evacuation Team, a group of NGOs and former retired general officers all focused on the importance of both advocacy and evacuation. As a result of her interaction, she became the Program Director of a brand-new NGO called Aman Lara focused specifically on evacuation, advocacy, and safeguarding the applicant population.
The Interview
Lori Turnbull:
Thank you so much to all three of you again for being here and for the very unique vantage points that you bring to the conversation. So, what I'd like to do is give you the opportunity just to this story. And I don't want to interrupt you, I just want to give you the floor because it's a really fascinating piece. So maybe I'll throw it over to Ali but leave it to the three of you to determine how you want to tell the story.

Ali Shakil:
Yeah. Thanks, Lori. So perhaps I'll start, and Eleanor and Arjun jump in, but what really got us excited about working together with Aman Lara here on this challenge was that we saw on the news that there was a dire situation where Canadians could help the situation in Afghanistan. And when we first heard from Aman Lara's organization about the assistance, they needed to evacuate people in Afghanistan that were involved with supporting Canadians. We were very excited to jump in, and the challenge that was brought to us was they had many different people that they wanted to support, but they didn't necessarily have the systems, processes, or ability to manage the information of all these people in an effective and efficient way. They were also collaborating very closely with other NGOs. They were collaborating closely with the government. So, as you can imagine, managing this information of people that's very private, it needs to be handled securely.

Ali Shakil:
It needs to be managed efficiently, doing that on a manual ad hoc basis using rudimentary tools, such as Excel, using some basic tools online, it wasn't doing the job. So, when we got this business problem, we thought it was a great opportunity to pull together a team that was passionate about this space, wanted to help and get something up and running quickly, where we can get applicant information securely, process it safely, and have all that information in a very private, safe, and secure manner through the use of digital technologies. And I think Eleanor and Arjun could probably do a great job touching more on the human aspect of the situation.

Eleanor Taylor:
Yeah. So, thanks very much, Ali. We'll always be so grateful for what it was that IBM was able to help us solve and just to paint the picture from my perspective. So back in June, when I realized that we had a lot of people still in Afghanistan, who we had worked with, that we had served with and fought with, I started to have people from Afghanistan reach out to me. And I could've made a connection with the person who I had worked with my former interpreter, whose 10-year-old son, his parents, his two brothers and his sister were still in Afghanistan. And they were moving from house to house to stay safe as the situation devolved. And we were helping people fill out application forms when the process was eventually opened and we ourselves had a list of 33 families and we were trying to update their names.

And then as we coalesced around other veterans and people who were invested in this effort and then eventually found this space where we were part of five partnered NGOs who were meeting twice daily on the issue. We realized that we were really failing in being able to represent adequately the applicant population, both in terms of our ability to advocate to IRCC, but also in our ability to understand who was ready to be evacuated. And so, one of the things we tried as Ali referred to, we tried a Google Sheet document and we had five organizations and 34 users all trying to update a Google Sheet document with private, personal information that was being shared with us for this purpose. But we were failing, we were absolutely failing because we needed to be able to record whether they were approved, what sort of documentations they had in order to serve them.

And that information was constantly changing. And so, on Labor Day weekend, we reached out to IBM Canada. One of our members of our group had a contact and the team met with us that weekend. And within 10 days we had a solution that enabled the applicants to update their own information and to filter it and use it in a way that was meaningful. And then within that first two-to-three-week period, we had 13,000 people represented in that initial product. And that product then evolved in a way by which applicants could go back and have their own profile and change that information as it evolved. And so, if their application was approved, we could then see that and we could put them in a pile to evacuate. If they suddenly got their passport that they didn't have before, it opened up options for them.

And if we didn't have this tool that allowed them to update their own information, we would absolutely not be in a position to serve them in the way that we are now. And the other thing that it did for us, is it really increased our credibility with our government partners, because we were able to demonstrate that we really understood the needs of the population. And because of that credibility, it opened doors for us, which I think has just served us all collectively. So, it's been such a privilege and the team at IBM has worked so hard with us over this period, on a daily basis to evolve this product into something that's going to meet the needs of these people and eventually get them to Canada.

Arjun Grewal:
I don't know if I can add to that. I think one thing that we need to remember is that this crisis came up very quickly. The first couple of weeks of us trying to solve this problem was in an environment that the information was changing daily. I think that's the power of soldiers, we are very good at addressing complex problems in resource constrained environments and coming up with solutions. I think the Excel documents and Google Sheets are a perfect example of that. IBM and their partnership really took us from a tactical employment concept to a strategic. What we have now is really a database and an information collection tool that really augments government processes. We've done so by listening to our end user.

One thing I forgot to mention during my intro is I'm a proud former IBMer, I spent four years with IBM Cloud and Business Analytics. And to see how IBM does that, very client centric development, it's something that we applied to this problem as well. And it was really great to engage our Afghan population in what is the best solution for them? What sort of agility and timelines do they need to take advantage of? And we built a tool that reflects that.

Lori Turnbull:
Thank you so much. That is such a fascinating story in partnership and cooperation and collaboration and communication on something that is literally life and death. I don't want to get away from the human element of this story at all, but I do want to ask about the cloud, because I know that this is going to be of interest to our listeners in terms of thinking about how the initiatives that you've taken here, the concept is transferable to other situations. So, I wonder if I can ask, how did you leverage the client innovation center for cloud modernization to develop this platform?

Ali Shakil:
Maybe I'll go first and talk a bit about our CICs and the premise that it's built on. So, the Client Innovation Centers that we have across Canada are a core part of our consulting business and how we deliver value to our clients. And the premise of our consulting business is accelerate together. And what that means for us is how do we bring together talented people? We have hundreds of employees across our CICs in Canada that can assist our clients with some sort of outcome. It's not about the technology, it's about what type of outcome can we deliver? So, our CICs, they're the embodiment of our IBM Garage Methodology, and that method we use both in virtual spaces and physical spaces. And what we do as part of that methodology is we really think about end users at the center. We apply design thinking, what do these end users need? Where are their pain points? Where are the challenges they're facing? How do we actually empathize with them? We think about how do we co-create a solution? So, it's all about the design of that solution with our client, in this case, Aman Lara really understood the end user. A lot of them were on the ground in Afghanistan and knew what they were going through. Little things like, how do we make this very mobile friendly and make it available in an environment where you may have a signal drop here and there? So, making sure we're configuring things around that. How do we also co-execute the solutions? So, we worked very closely with our counterparts at Aman Lara to actually do the build efforts. So we would iteratively build components of this solution, make refinements once we got feedback and then go quickly to release, as you heard in the intro, Eleanor mentioned that within two weeks we had something live.

And I think that demonstrates a lot of how quickly our CICs can move, when there's a will behind it to deliver some sort of outcome quickly. In the last part of our three-pronged approach that I mentioned, we co-create, we co-execute, is that we also co-operate solutions with our clients. So now that something is live, we've actually done several releases where we've created new updates. We are now running and managing that solution so that it's highly available, it's resilient, there's no downtime. And that's really when you bring the power of cloud. Cloud environment really virtualizes the infrastructure you are using, we're not reliant on specific environments or infrastructure. We are able to use services that are also highly available. Arjun mentioned we have this information stored in databases that are highly available. We have experienced layers that sit on top of these databases.

So you can interact with that information in a very user-friendly way. And the way we were able to build this in two weeks is we use components that are already available on IBM Cloud. We stitch them together into a solution where business users can use it. Information is stored safely and securely, and it's hosted on highly available environments. And the people that are working across their CICs are very familiar with how to use this cloud technology. So that's how we can move so quickly with speed. And I believe it goes to show when you have the right system, method, and technology in place, even if you're a large organization like IBM, you can move very quickly to create a solution.

Lori Turnbull:
Thank you. Thank you very much for that. That's very clear, even though I'm not someone who knows anything about cloud or anything digital, I completely understand that. That's really, really neat. I wonder if I can ask all three of you, do you have a sense of the future next steps in the situation of the Afghan refugee crisis, is there a sense of what your next steps are for this project?

Eleanor Taylor:
From my perspective, we see it evolving in a number of ways. So one is, we are currently partnered with quite a large number of NGOs, but there are people out there who are not leveraging this platform. And I believe that the more people we can bring on to use this platform, the better we are at representing the whole population. And so, we want to make sure that everybody out there knows that we want them, invite them to use this platform and that they can then benefit from the information that it brings and the power with which we can use that information to both advocate and evacuate people. The other piece that we hope to evolve is now that we have a way by which we can access the backend, so that is the backend of the database.

We see ourselves building out a volunteer team of folks who can do more detailed vetting. So, all of our applicants offer a reference in the information that they provide, and those who've not been successful in their application, we now will have the ability to contact those references and really push their application through advocacy to IRCC. So, we think we can evolve in that domain. And then finally, we would encourage any of our government partners to see the power of this tool, to recognize how secure it is and how agile it is in having up to date information. And so, we take every opportunity to encourage those people that are working with us to take advantage of this platform too. Arjun, anything to add?

Arjun Grewal:
Yeah. To that point, I think continued engagement with our government partners is going to be really important. And I think to Ali's point about the CIC, it's served a really good location and environment to have conversations about the work that IBM's doing, and its tech for good portfolio, but also showing how technologies can complement, augment, and accelerate government processes. So, I think that's something that we want to look forward to and seeing where this can be applied in emergency services outside of IRCC.

Lori Turnbull:
Great. Thank you. Thank you so much for telling our readers this story. This is fascinating. Anything I missed? Anything you want to… final thoughts kind of thing?

Eleanor Taylor:
From my perspective, it's just to just put on the table that IBM did all this work for us for free. They brought together this team of… There were times we had eight or nine people from IBM on the call day in, day out developing this platform for us, and we are an all volunteer-based team. And just want to say how grateful we are for the work that they have done and to acknowledge that it's really transformed how it is we can do our work.

Ali Shakil:
Yeah. I think Eleanor, just to echo what she was saying, a big part of what we do here at IBM is we want to deliver outcomes for people. And Arjun alluded to our portfolio on tech for good, we play a role in many different areas, including some of the P-TECH Programs we do in Canada for helping address the skills gap and educate people that may be less fortunate. But we also love helping out in situations like this, it's very rare where you could be watching the news in August, September, and then you have a role to play in how you actually change what's happening on the ground. And the bridging the gap, seeing something and then having an impact on it for our people, does a lot for our culture as well.

People feel that this is something meaningful. It's something that has purpose. And it reminds us that technology is just a means to deliver an outcome. We're very lucky at IBM where over our long history, over the past 100 years, this is what we do as an organization. We try to do things for good for the world and build innovation that matters and having the tools, assets, the people, the technology in our portfolio to deliver that outcome with speed, I think that's what makes IBM quite powerful. And we're very lucky that an organization like Aman Lara has put the trust in us to deliver this with them.

Lori Turnbull:
Thank you. Thanks to all three of you for telling us the story and for sharing the experience that you had, and I'm absolutely really keen to see what your next steps are, what happens next. Thank you.

You can listen to this entire interview as part of our CGE podcast
Related posts