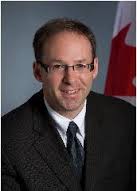 Q: Where is Comptrollership going?
Comptrollership in the Government of Canada is evolving to reflect a changing environment, one that entails the need for increased transparency and enhanced accountability. Going forward, the vision for comptrollership will need to include: strengthening the culture of measurement and innovation in program and policy design and delivery; providing evidence to inform decision-making; increased openness; and, most importantly, strengthening oversight of taxpayer dollars and the clarity and consistency of financial reporting.
Q: Comptrollership seems to be moving beyond numbers. You often talk about its "cultural" influence. What do you mean?
For me, the focus of today's modern comptrollership is instilling core values of sound resource management and effective decision-making within and across the public service. This not only includes managers, but all public servants, whether they are engaged in front-line program and service delivery, policy or program design, or corporate service and support functions. Comptrollership is about ensuring that federal public service managers and employees understand their roles and responsibilities, and that they are equipped with the requisite skills and competencies. A comptrollership culture is one in which all public servants are able to see their work in the policies that guide their occupations and are able to take a risk-based approach to financial controls that supports flexibility and decision-making. This is how we develop programs that reflect fundamental public service values such as stewardship and accountability.