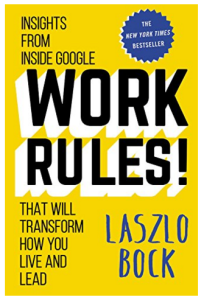 If you want to improve your management procedures, search Google. No, don't put those words in the search engine's magical white slot. Instead read Laszlo Bock's Work Rules. The head of Google's people function shares insights gleaned from the company's rapid growth and its many experiments with different procedures, to see what works best.
Of course, you may have to breathe deeply and take a risk to follow his rules. Google believes in empowerment. Perhaps you do as well, or claim to. But it takes more than mere rhetoric to accomplish it.
"The power dynamic at the heart of management pulls against freedom. Employees are dependent on their managers and want to please them. A focus on pleasing your manager, however, means it can be perilous to have a frank discussion with her. And if you don't please her, you can become fearful or resentful. At the same time, she's accountable for you delivering certain results. Nobody produces their best work entangled in this Gordian knot of spoken and unspoken agendas and emotions," he writes.