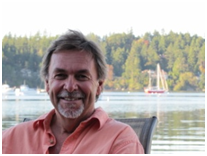 This month, I shine the innovation spotlight on Greg Goodwin, an accomplished public servant with over 20 years of experience in British Columbia. I have had few opportunities to work directly with Greg yet, in our conversations before, during and after meetings, he has always inspired me. He demonstrates what real leadership looks like in the public service. A gentle force, valuable mentor and encouraging coach, Greg is well respected and highly regarded as an individual committed to the principles supporting a strong, innovative public service.
Here is a snapshot of Greg's background and accomplishments:
Greg Goodwin is the Executive Director in the Economic Development Division of the Ministry of Jobs, Tourism and Skills Training. He has responsibility for a wide ranging portfolio of programs and policies which support regional economic development.
He has been with British Columbia Public Service since 1993 (Ministries of Small Business, Tourism and Culture, Forests, Community Development, Regional Economic and Skills Development) serving in Victoria, Prince George and Nanaimo. He took a leave of absence from the provincial government to work in Egypt from 2001 to 2006 to support small and medium enterprise development.
He holds a Masters in Natural Resources Management (University of Manitoba – 1977) and a Bachelor of Science in Environmental Conservation (McGill University-1975) as well as a certificate in French and tennis from the University of Nice.
In his spare time, he plies the keys of a marimba and also practices and competes on the Gorge, Vancouver and elsewhere with his Gorging Dragons dragonboat teammates.
Greg illustrates his intrapreneurial style and spirit through sharing his "Top 10 list" of characteristics of people who are government gamechangers. He explained it to me as he does with every new member of his staff.
Greg's Top 10 – "if you want to get things done in government…"
1. P3 – Patience, persistence and perseverance
These days, everyone is in a hurry to get things done. If you want get things done, you need to build a strong narrative for your change effort. The best way I have learned to do this is by cobbling together as many aspects of the government platform as I can. For example, I take the service plan, media clippings, and other snippets I hear in speeches and presentations to create a cohesive narrative that helps the policy, program or initiative to be ready to bring forward. Once the timing feels right, I make sure I'm ready for that window of opportunity.
These windows open up occasionally in government because the internal dynamics are always changing. Bosses, deputies, assistant deputies and governments change; just because the time for an idea might not be right doesn't mean you walk away from it. Circumstances will change, but you need patience and perseverance to see your change effort through.
Don't swim upstream forever. You will only get exhausted. Sometimes you need to pull back, reorganize and redesign. Have a shelf of ideas ready to go, make sure they are well thought through and wait for the opportunity when you hear the invitation "we want to hear some bold new ideas."
I think government is always looking for bold ideas. However, it is in your best interest to pay attention to the possible constraints in order for the idea to gain traction. For example, if there is a tight timeline that must be met, or no new money is available, then the design must be within that framework.
2. Volunteer and be visible
Step up and volunteer to do something that is important to you. I have always supported people who get involved with ministry initiatives that interest them, whether it be employee engagement or other innovation initiatives. I have reassigned work to help people get the time and space they need, or have taken on work myself when necessary to give people opportunities to pursue projects they are passionate about.
3. Strategic thinking and analytical competence but a focus on results
Keep an eye on the big picture. Process matters but results matter more. You need to be able to go from the big picture down to the finite details, which is almost an artform. Everything counts but you have to get things done. A big burly professor of mine used to say "don't get it right, get it written." I didn't necessarily agree with him at the time but, throughout my career in government, I now have a better appreciation for his comment. On time is more important than anything. We can become obsessed with perfection and somewhat paralyzed by process. "Don't let perfection be the enemy of the good."
4. Communication skills – briefing notes, presentations, verbally succinct briefings
Good writing is important. It is an undervalued skill to write a good two-page briefing note. Sometimes there is nothing more rewarding than a well researched letter from the minister to a stakeholder – it can be magic. This is where deputies often demonstrate their incredible skill of sifting through issues to get to the succinct core and not get bogged down in white noise. Talented communicators bring a lot to the table.
Now I want to talk about the 12-minute briefing. It frustrates me that in some ways we've become slaves to Outlook – by these hour-long meetings that can become time suckers when all we sometimes need is a 12-minute discussion. I think we should create a culture where we don't feel the need to meet for hours to discuss issues. Let's give people the skills to get to the crux of an issue quickly, and it will never take an hour to discuss a problem.
5. 3C's – Principles of collaboration, cooperation and coordination
Everything is about relationships. If you establish key rules of engagement and apply these principles to your coalitions and everyone agrees to share information and work together, you raise the bar and inspire others to follow similar protocols. I think, overall, a stronger, more productive and innovative public service results.
6. Add value, contribute
One of the things that mystifies me is why people come to meetings without saying anything – why are you here if you are not contributing?! Try to always contribute and add value to the conversation.
7. Network
Get outside of your comfort zone and connect with others. We need to do a much better job at cross-sector thinking and interlocking social and economic objectives and therefore ministries. Despite the way that government is generally designed, we can find creative ways to move files across organizational boundaries. This is what often leads to innovative thinking and new solutions.
8. Surround yourself with people smarter than you
There is no monopoly on wisdom. You are only as good as the people around you. Surround yourself with thinkers and questioners – they will up your game.
9. Lifelong learning
I want people to be curious to ask good and insightful questions, and to expand their knowledge by probing and prodding. Policy decisions should be based on solid evidence, so challenge your team to provide the best policy advice and options they can.
10. Seize opportunities – take on challenging files
Don't duck. Take on the hard files. These are great opportunities to introduce new thinking and try different approaches. There is space to do new things in government, but you have to make sure you get the job you were hired to do, done. If the shelf life of a particular initiative is short, only put the time and effort in that it deserves. Seek out successes and create opportunities to get things done. Every once in a while you need to experience smaller and incremental successes to keep you motivated in addition to working on the larger issues.
Here are some of the things I've learned throughout my career:
If you can align your passion with the key priorities of government, magic can happen.
Sometimes you have to make tough decisions and do the right thing despite the potential impact on your career.
Always get a champion onboard.
Explain complexity with simplicity and ensure everyone is aware of all the benefits of your initiatives.
Keep your coalition intact – internal and external stakeholders need to be aboard for the ride.
Personal relationships are critical – you need to draw on expertise from many people when trying to move new thinking forward.
Let people clearly see that if you do X, you will see Y. How many strategies and plans do we do in government that don't result in the outcomes we would like to see? This is frustrating. Explain the change you are trying to bring about and why it is better than the status quo. Peoples' imaginations need to be captured so they can envision the change and become champions for that change.
When asked about his legacy, Greg shared the following…
"It's fine to celebrate success but it is more important to heed the lessons of failure." Bill Gates
Most people come into government to make positive change and contribute to a better society. But some become notoriously risk averse and simply seek out security and manage through without taking chances – out of a fear of failure. After all, let's admit, going way out on a limb in government and failing is difficult. There are natural constraints to contend with, but managing without a fear of failure has always led to more meaningful work for me.
I have always been committed to creating the space for different views to come forward and allow people to express more of who they are. Debating is important for me, and we don't debate enough in government. We have presentations, discussions and conversations but we don't have formal debates where people form arguments about pros and cons around different policy options. There have been times where it has been used and it was exciting.
I hope my legacy is the people I have worked with who are empowered and therefore inspired. If you support and nurture your people, and provide an environment that allows them to grow and innovate, not only do you strengthen them, you also strengthen the public service. Agility, nimbleness, flexibility and adaptability are all key core characteristics of folks who excel at intrapreneurship.
---
Colleen McCormick is Director of Strategic Issues with the Ministry of Jobs, Tourism, and Skills Training and former Director, Innovative Partnerships where she managed the social innovation file in the Ministry of Social Development. Colleen is also the founder of Social Innovators Network Foundation. Previously, she was a TEDxMileZero organizer and National Chair of the New Professionals for the Institute of Public Administration of Canada. She has an MBA from RRU and a Graduate Diploma in Social Innovation from the University of Waterloo. You can contact her on Twitter @SInnovatorsNet.
Related posts