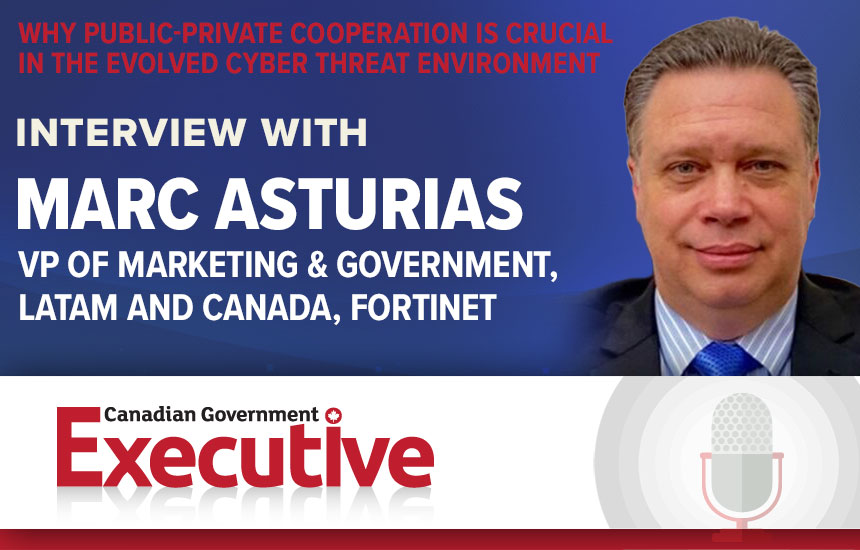 Host, J. Richard Jones welcomes Marc Asturias, VP of Marketing & Government, Latin America and Canada, Fortinet, to the show. They hit the ground running on the importance of promoting public-private cooperation on cybersecurity issues.
Fortinet secures the largest enterprise, service provider, and government organizations around the world. Fortinet empowers its customers with intelligent, seamless protection across the expanding attack surface and the power to take on ever-increasing performance requirements of the borderless network—today and into the future. Only the Fortinet Security Fabric architecture can deliver security without compromise to address the most critical security challenges, whether in networked, application, cloud, or mobile environments. Fortinet ranks number one in the most security appliances shipped worldwide and more than 500,000 customers trust Fortinet to protect their businesses.
Mr. Asturias is a veteran of the technology industry, Marc Asturias serves as Vice President of Marketing and Government Vertical for Fortinet. He also oversees the company's market development for the public sector, bringing into this role more than two decades of business experience.
Asturias adds his strong track record in driving large-scale demand generation and brand awareness programs, coupled with deep experience in international markets, establishing strategic partnerships and leading digital transformation programs to the company.
Asturias is Member of the Board of Directors of the Inter-American Defense Foundation / Inter-American Defense Board – Organization of American States, Member of the Board of Directors of ForwardHeroes, and serves as a Guest Adjunct Professor on National Security Affairs and Cybersecurity for the William J. Perry Center for Hemispheric Defense Studies at the National Defense University. He has led effective programs and teams on behalf of companies such as Westin, Apple, Veritas, Symantec, General Dynamics Advanced Information Systems, and Cisco.
His efforts have led to key programs with private and public companies as well as with the governments of Mexico, the United States, Brazil, Costa Rica and Chile; with organizations such as the World Bank and the Center for Strategic and International Studies; and with a large number of ministries, defense departments and public-private entities.
Asturias obtained a bachelor's degree and numerous honors from the University of Tampa and specialized in Electronics Engineering while in the U.S. Air Force. His academic background also includes officer-training programs at the University of Texas, Business Administration and Management studies at the George Washington University School of Business (GWSB) and numerous courses and certifications from other entities, including by the National Cybersecurity and Communications Integration Center, Federal Emergency Management Agency, and U.S Department of Homeland Security in cybersecurity and critical infrastructure protection; and the World Health Organization for COVID-19 country preparedness internationally.
He served at the prestigious Inter-American Air Forces Academy (IAAFA) for the US Air Force and US Department of Defense, focused on supporting foreign internal defense initiatives in Latin America.
In this episode:
What are the primary cybersecurity challenges facing nations today?
How prepared are national defense forces to confront an evolving cyber threat landscape?
How is Fortinet helping to address cybersecurity challenges in Canada?
And more!
Related posts