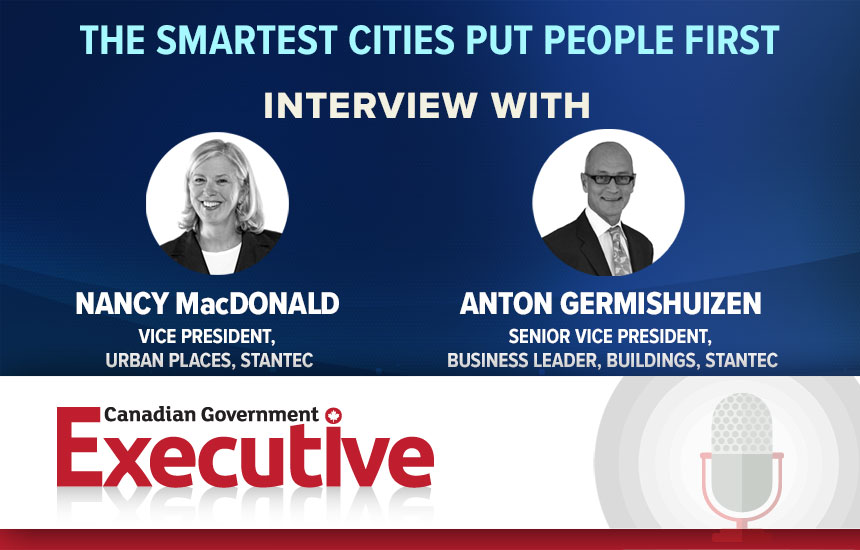 Say "smart cities" and most people think technology—sensors, networks, data, the Internet of Things. We need to think people. Technology can help our cities deliver services more efficiently, future-proof assets, and boost transparency, making cities—and citizens—vibrant, healthy, and resilient. The approach to smart planning and design isn't just to implement the latest tech trend, but to understand the needs of your community and identify the right solutions to achieve your goals.
In this episode of the CGE, J. Richard Jones discusses the solutions with Nancy MacDonald, Vice President of Urban Places and Anton Germishuizen, Senior Vice President, Business Leader at Buildings.
About our guests:
Nancy MacDonald. Having a fascination with cities drew Nancy to the world of planning. She loves the way they change, grow, and fit together, combining diverse people and places to make something greater than the sum of their parts. As Urban Places and Smart Cities director, Nancy is heavily engaged in creating equitable and livable communities—grounded in strong planning principles—and marrying technology to community needs.
Anton Germishuizen. Anton fosters a commitment to design excellence and the growth of Stantec's design culture. He remains actively engaged in the marketing and design of projects, with a particular focus in the civic sector. He is a strong proponent of interdisciplinary integration in design and is the co-author of 10M: Toward an Integrated Approach to Design.
About Stantec:
Communities are fundamental. Whether around the corner or across the globe, they provide a foundation, a sense of place and of belonging. That's why at Stantec, always designs with community in mind.
Stantec cares about the communities served—because they're our Stantec's communities too. Stantec assess what's needed and connects their expertise, striving to appreciate nuances and envision what's never been considered, to bring together diverse perspectives so that all can collaborate toward a shared success.
Stantec people are designers, engineers, scientists, and project managers, innovating together at the intersection of community, creativity, and client relationships. Balancing these priorities results in projects that advance the quality of life in communities across the globe.
Related posts